Trail-Creeper 2.28x4.70 Dual Transfer Cases
SKU
Trail-Creeper 2.28x4.70 Dual Transfer Cases
Trail Creeper 2.28x4.70 Dual Transfer Cases
If a 4.7:1 transfer case gear ratio has proven insufficient for the type of offroading that you want to do and you look forward to the kind of quality time with your tools that modifying your floorboards and drive shafts would require, it's time to upgrade to a Dual Transfer Case setup.
With a stock 2.28 transfer case, a 3.93 first gear ratio and 3.90 differential, your crawl ratio works out to 35:1. The Trail-Creeper™ 2.28x4.70 Dual Transfer Case changes the crawl ratio in that scenario to 164:1! That massive torque and fine control certainly changes the game, enabling you to take on terrain that others fear to crawl.
The Dual Transfer Case will work in 1979-1995 Toyota Pickups and 1985-1995 4Runners as long as they use one of the transmissions described in the Transmission Matrix below. Note that V6 trucks with the R150F transmission require an adapter plate for compatibility. The G58, A340F and A340H transmissions are not compatible with the Dual Transfer Case!
We manufacture 24 different variations of this magnificent unit. Choosing the right variation for your application requires defining the following four options:
2.28 Gears: [New] or [Remanufactured]
Input Gear: [21-Spline] or [23-Spline] - In the Dual Transfer Case the front reduction box (that connects to the transmission) needs to match the Input Gear of your transmission. V6 and 4-cylinder turbo trucks use a 23-spline input, all others use 21-spline - See the Transmission Matrix below.
Shifter Options: [Top Shift], [Foward Shift 4" Offset] or [Forward Shift 4.5" Offset] - Top shift T-cases have the shifter(s) on top of the transfer case. Forward Shift T-cases have protruding shift forks that attach to shifter(s) mounted on the transmission. In the Dual Transfer Case, the rear reduction box (connected to the front and rear output components) is always Top Shift. The front reduction box (that connects to the transmission) in most cases should match the shifter configuration of the transfer case it replaces. Find your specific transmission in the Transmission Matrix below and look under "Shifter Options" for the specific shifter configuration of the stock transfer case.
Single or Twin Stick: [Single Stick Only] or [Twin Stick Ready (Loose Interlock Pin)] - A twin-stick allows independent control of low/high range and 2WD/4WD engagement. With a twin-stick configuration you can switch between 2WD and 4WD without stopping and access 2WD Low-Range for better handling when traveling between obstacles on a trail. In the Dual Transfer Case, the rear reduction box (connected to the front and rear output components) can be either single or twin stick, based on your personal preference.
transmission matrix
year(s)
transmission(s)
input gear
shifter Options
special notes
79-83
L43/L45/L50/L52
21-Spline
Top Shift
8/83-88
G52/G54
21-Spline
Forward Shift-4.5" Offset
85-88
W56A/B
21-Spline
Top Shift
86-87
R151F
23-Spline
Forward Shift-4.5" Offset
Bench Seat Models
86-87
R151F
23-Spline
Top Shift
Bucket Seat Models
88-95
R150F
23-Spline
Top Shift
This transmission was originally sandwiched between a 3VZ-E V6 engine and a VF1A chain-drive transfer case. Replacing this transfer case with a Trail-Creeper™ 2.28x4.70 Dual Transfer Case requires our V6 adapter kit (SKU: 100086-1-KIT)
89-95
W56-C/D/E
21-Spline
Forward Shift-4" Offset
Please NOTE:
Our Trail-Safe™ T-case Output Seal will be included and installed at no additional cost.
While these transfer cases ship with a new shifter base, neither the [Single Stick Only] cases nor the [Twin Stick Ready] cases ship with shifters. Shifters must be purchased separately if needed (see "Related Products" below).

Installation will require significant floorboard and driveline modifications to fit! The front driveline must be lengthened and the rear driveline shortened.

If you are unsure if you have the 4" or 4.5" Forward Shift
transfer case, please refer to the comparison image displayed here: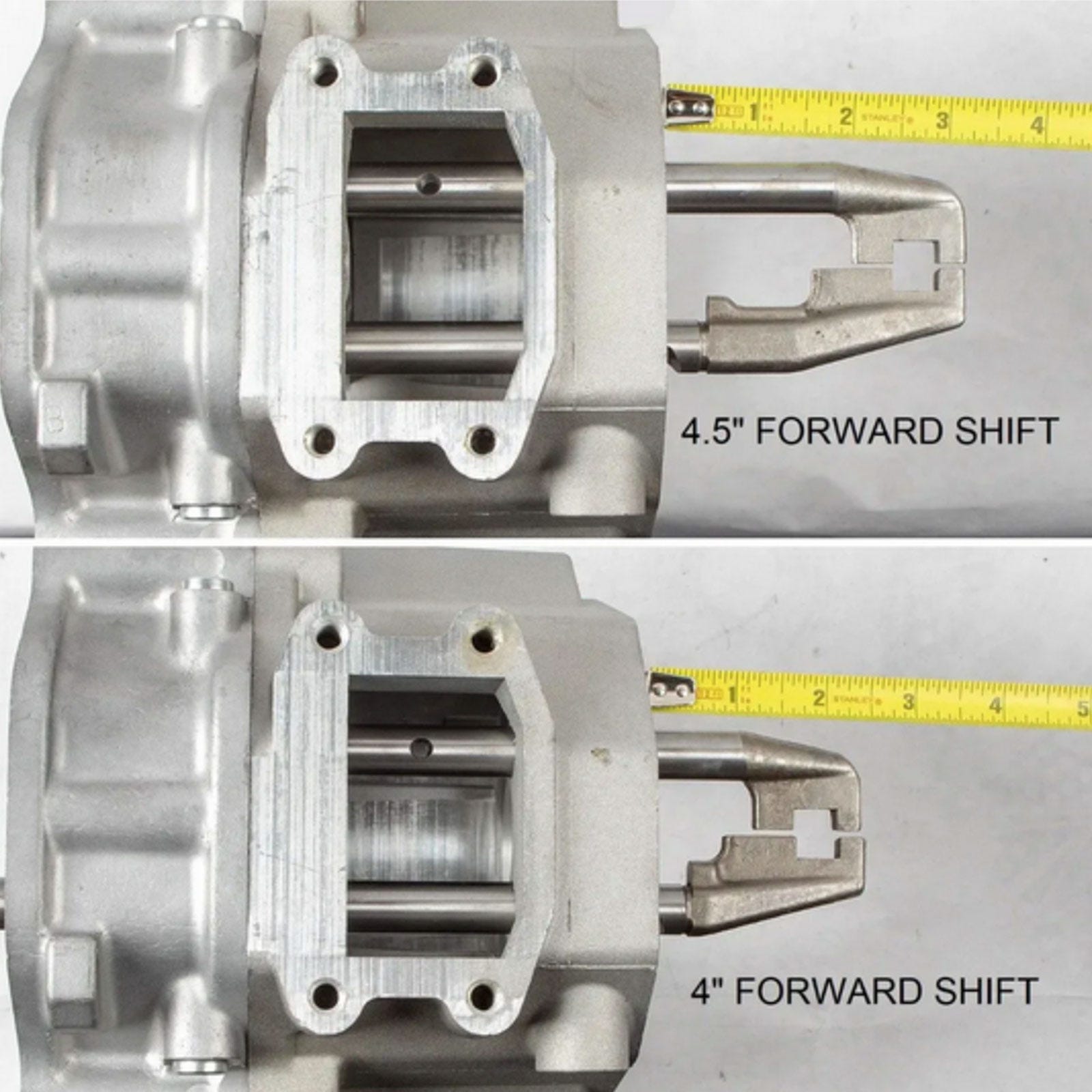 $400 CREDIT FOR CORES: We're giving $400 store credit in exchange for old t-case cores. Contact our sales team today for more details.
NOTE: Only usable gear-driven cores will be accepted (subject to inspection). Participants must ship used cores at their own expense (no COD shipments accepted). Limited time offer subject to cancellation.
WARNING Cancer and Reproductive Harm - www.P65Warnings.ca.gov
4.70 low range gear set in the rear and a stock 2.28 gear set in the front
Each case is fully rebuilt and inspected
Triple drilled flanges are installed on both front and rear output
Rear reduction section is equipped with 23 spline input gear and coupler
Includes our new Trail-Safe™ T-Case Output Seal
TOYOTA PICKUP - ALL ENGINES
(1979-1995)

1979 Toyota Pickup
1980 Toyota Pickup
1981 Toyota Pickup
1982 Toyota Pickup
1983 Toyota Pickup
1984 Toyota Pickup
1985 Toyota Pickup
1986 Toyota Pickup
1987 Toyota Pickup
1988 Toyota Pickup
1989 Toyota Pickup
1990 Toyota Pickup
1991 Toyota Pickup
1992 Toyota Pickup
1993 Toyota Pickup
1994 Toyota Pickup
1995 Toyota Pickup

TOYOTA 4RUNNER - ALL ENGINES
(1985-1995)

1985 Toyota 4Runner
1986 Toyota 4Runner
1987 Toyota 4Runner
1988 Toyota 4Runner
1989 Toyota 4Runner
1990 Toyota 4Runner
1991 Toyota 4Runner
1992 Toyota 4Runner
1993 Toyota 4Runner
1994 Toyota 4Runner
1995 Toyota 4Runner
NOTE: These transfer cases are shipped with our Triple-Drilled T-case flanges. They can accommodate the following driveline bolt patterns:
70mm x 61.5mm x 10mm bolt
68.3mm x 60mm x 10mm bolt
60mm x 60mm x 10mm bolt
If you have a driveline that uses a different pattern, you will need to change your driveline or use a different driveline flange. We offer blank driveline flanges (302906-1-KIT) that can be drilled to accommodate most patterns (sold separately).
All products carry our 12 Month Limited Warranty. All warranties are limited to the original purchaser and are not transferable to subsequent owners of the product. The warranty period begins on the purchase date. Trail-Gear warrants that it will repair or replace, free of charge, any eligible product which, under normal conditions of use and service, proves to be defective in materials or workmanship. This warranty does not cover any labor costs incurred in diagnosis of defects, removal or reinstallation of a product, nor does it cover any other consequential expenses.
Please read and review our return and warranty requirement document before sending in products.
Warranty Exclusions

Trail-Gear Inc. warranty does not cover, and Trail-Gear Inc. shall not be liable for, any undertaking, representation, or agreements made by dealers or other third parties selling Trail-Gear products, except where such agreements are within the provisions of this Warranty.
Specifically excluded from this warranty are failures caused by lack of maintenance, misuse, negligence, modification, abuse, improper application, crash damage, installation or operation, or failures caused by unauthorized service or use of unauthorized parts.
Additionally excluded from this warranty are parts which are subject to normal wear and tear, such as bushings, fluids, hoses, gaskets, belts, etc. Products not manufactured by Trail-Gear Inc. are excluded from any warranty and shall be handled with the original manufacturer.
All parts used in a competitive racing environment are excluded from this warranty. If, after inspection, a part returned, under any warranty, is deemed to be ineligible for warranty repair or replacement, the part may be repaired or replaced for a discounted cost. Return shipping charges will apply. Any part for which a warranty replacement is sought must be returned to Trail-Gear Inc. before any replacement items can be shipped. All replacement parts shipped before the suspect part has been received and evaluated by Trail-Gear, MUST BE PAID IN FULL. In such a case, after the suspect part has been received and approved for a warranty replacement, the purchase price for the replacement will be refunded.
To begin your warranty claim:
Please contact Trail-Gear Inc. at 559-252-4950 or email sales@trail-gear.com prior to returning any product under warranty to verify that warranty is still in effect.
Products must be shipped back to Trail-Gear Inc. at the expense of the customer.

Ship all products to:
ATTN: WARRANTY
5356 E. Pine Avenue
Fresno, CA 93727.

Please place a clearly marked copy of the original invoice inside the package.
Please include a short note stating the problem you are experiencing.
If any of the above mentioned policy is not met, the package will be refused or warranty claim denied. By completing the steps above, this will ensure faster processing of your claim so that Trail-Gear can get your product back to you as quickly as possible. All warranties are generally processed within 2-3 business days of Trail-Gear receiving the parts from you. Additional delays may be incurred if product needs additional testing or repairing.
If you are an international customer, please email the warranty department at sales@trail-gear.com to receive further instruction. International customers may have the option to field destroy an approved warranty to avoid costly return shipping. In this case, any shipping charges for replacement parts will be at the expense of the customer.